The relationship between human leukocyte antigens (HLA) and renal cell carcinoma
Keywords:
renal cell carcinoma (RCC), human leukocyte antigens (HLA), immunity
Abstract
Etiologies of Renal Cell Carcinoma (RCC) are not clear despite of the fact that many risk factors have been suggested. Especially in high stages RCC can affect the immune system in various ways. Human Leukocyte Antigens (HLA) may play a complementary role in the activation between the tumor and immunity. Our aim was to determine the existence of the relationship between HLA system and RCC. By using the standard microlymphocytotoxic method of Terasaki in our study, the HLA A, B, DR and DQ antigen types of 20 patients with RCC Stage Ti and T2 were compared with the control group consisting of healthy 30 people. In our RCC patient group, HLA-A23(9) and DQ7(3) antigens were significantly higher than the control group statistically (p=0.005, p=0.0028; respectively). HLA-A10, DQi, DR10 and B44 antigens were significantly higher in the control group than the patient group (p=0.011; for all). The findings made us suggest that the people, carrying the antigens which were detected in the patient group, were at high risk for RCC and the people, carrying the protective antigens that were detected in the control group were at less risk for RCC. There may be a dramatic regression for the patients who underwent immunotherapy and HLA expression, which is known to play role in tumor biology, may direct the effects of immunotherapeutic agents. Immunologic description and destruction is avoided in case of change or disappearance of HLA expression by cancer cells. Further investigations which will be performed in our population in the future will be more illuminating to confirm those results. We have concluded that, HLA profiles may be evaluated for detection the people at risk of RCC, the prognosis of the patients and their treatments.
Downloads
Download data is not yet available.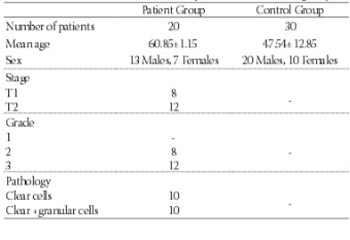 Downloads
How to Cite
1.
Yılmaz E, Çekmen A, Akkuş E, Önal B, Uğur Özalp A, Solok V, Erdoğan E, Eren B. The relationship between human leukocyte antigens (HLA) and renal cell carcinoma. Biomol Biomed [Internet]. 2010Nov.20 [cited 2023Jun.2];10(4):282-6. Available from: https://www.bjbms.org/ojs/index.php/bjbms/article/view/2661