Tumor Suppresser Gene p53 Expression in Premalignant Lesions and Gastric Carcinoma - Prognostic Value
Keywords:
intestinal metaplasia (IM), epithelial dysplasia, Helicobacter pylori (H. pylori), p53
Abstract
The aim of the study was to verify the presence of mutated tumor suppresser gene p53 in intestinal mucosa with histologically confirmed premalignant lesions and gastric carcinoma, and assess its prognostic value. The paper presents prospective study that included 50 patients with gastric adeno-carcinoma of intestinal type that were treated at Gastroenterohepatology Clinic, and 50 patients with histologically confirmed chronic atrophic H. pylori positive gastritis. In the mucosa biopsy samples, we analyzed presence, frequency and severity of inflammatory-regenerative, metaplastic and dysplastic changes. We typed intestinal metaplasia immunohistochemically and confirmed the presence of p53 onco-protein in antigen positive gastric carcinoma cells, and evaluated its prognostic value. Our results suggest that H. pylori acts as an initiator of inflammatory processes in gastric mucosa, which are followed by emergence of precancerous lesions. p53 is expressed late in carcinogenesis (14%) and as such, may be considered as an indicator of transformation of premalignant into malignant lesion.
Downloads
Download data is not yet available.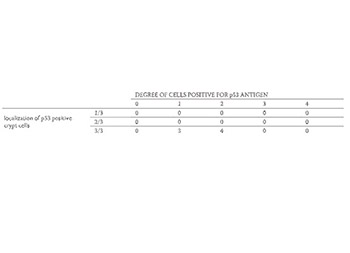 Downloads
How to Cite
1.
Vukobrat-Bijedić Z, Radović S, Husić-Selimović A, Gornjaković S. Tumor Suppresser Gene p53 Expression in Premalignant Lesions and Gastric Carcinoma - Prognostic Value. Bosn J of Basic Med Sci [Internet]. 2007Feb.20 [cited 2022Dec.7];7(1):7-10. Available from: https://www.bjbms.org/ojs/index.php/bjbms/article/view/3080