Cyclooxygenase-2 Expression Determines Neoangiogenesis in Gallbladder Carcinomas
Keywords:
gallbladder carcinoma, cyclooxygenase, tumor angiogenesis, endoglin, intratumoral microvessel density
Abstract
Neo-angiogenesis may have an important role in the poor prognosis of gallbladder carcinoma. An enhanced expression of COX-2 was found in precancerous lesions and in gallbladder carcinoma, likely to be involved in carcinogenesis as well as in angiogenesis. To study the relationships between the COX-2 expression and degree of vascularization, as well as to evaluate their role in the prognosis of patients with gallbladder carcinoma. 27 cases of gallbladder adenocarcinoma were included, classified grading I-III according the WHO classification. The COX-2 and endothelial antigen CD105 expressions were assessed immunohistochemically. COX-2 expression was evaluated according to the percentage and staining intensity of positive cells into "COX-2 positive" and "COX-2 negative" groups. In order to assess tumor microvessel density (MVD), CD105 positively stained microvessels were counted for each specimen in predominantly vascular areas (hot spots) at 200 x magnification. The MVD ranged from 9 to 46 microvessels/field. 15 tumors belonged to the hypervascular group (MVD > or = 25) and 12 to the hypovascular group. There were 16 (59.2%) COX-2 positive cases. There was difference in the degree of angiogenesis between COX-2 positive vs. COX-2 negative group: 11 (68.8%) out of 16 "COX-2 positive" tumors were hypervascular, in comparison with just 4 (36.4%) of "COX-2 negative" tumors. Our data show that the MVD corresponds to the COX-2 overexpression in gallbladder carcinomas. Augmented tumor neovascularization induced by COX-2 might be responsible for the poor prognosis in gallbladder carcinoma patients.
Downloads
Download data is not yet available.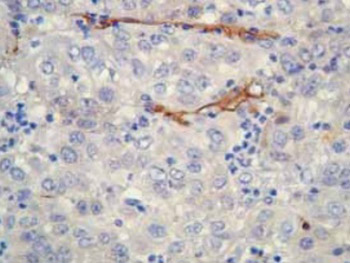 Downloads
How to Cite
1.
Legan M, Luzar B, Ferlan-Marolt V, Cör A. Cyclooxygenase-2 Expression Determines Neoangiogenesis in Gallbladder Carcinomas. Biomol Biomed [Internet]. 2006Oct.20 [cited 2023Jan.31];6(4):58-63. Available from: https://www.bjbms.org/ojs/index.php/bjbms/article/view/3122