Non-matured arteriovenous fistulae for haemodialysis: diagnosis, endovascular and surgical treatment
Keywords:
haemodialysis, arteriovenous fi stula, vascular mapping, non-maturation, endovascular
Abstract
Non-maturation is a feature of autologous vascular access. The autologous arteriovenous fistula needs time to mature and for the vein to enlarge to a size where it can be needled for dialysis. A fistula that fails early is one that either never develops adequately to support dialysis or fails within the first three months of its use. Two variables are required for fistula maturation. Firstly, the fistula should have adequate blood flow to support dialysis and secondly, it should have enough size to allow for successful repetitive cannulation. Three main reasons for maturation failure are: arterial and venous problems and the presence of accessory veins. Early diagnostics and intervention for fistula maturation minimizes catheter use and its associated complications. The identification of immature fistulae is relatively simple. Physical examination has been highlighted to be a valuable tool in assessing fistula. Any fistula that fails to mature adequately and demonstrates abnormal physical findings should be studied aggressively. Ultrasonography can successfully identify candidates who fail to meet the recently developed criteria for immature fistulae. In recent years, digital subtraction angiography and contrast-enhanced magnetic resonance angiography has been introduced for assessment of dysfunctional haemodialysis conduits, including immature fistulae. A great majority of non-matured fistulae can be successfully salvaged using percutaneous techniques. In addition to endovascular techniques, surgical intervention can also be an option. This paper reviews the process of fistula maturation and presents information regarding how to obtain a mature fistula.
Downloads
Download data is not yet available.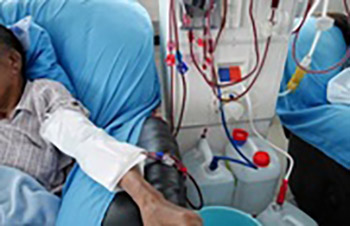 Downloads
How to Cite
1.
Malovrh M. Non-matured arteriovenous fistulae for haemodialysis: diagnosis, endovascular and surgical treatment. Bosn J of Basic Med Sci [Internet]. 2010Apr.20 [cited 2022Oct.5];10(1):S13-17. Available from: https://www.bjbms.org/ojs/index.php/bjbms/article/view/2640