Outcome Comparison of Two Surgical Methods Used for the Treatment of Acute Thrombosis of Arteriovenous Fistulas: Thrombectomy Versus De Novo Creation of Arteriovenous Fistula
Keywords:
AVF thrombosis, thrombectomy, de novo creation of AVF, patency rate
Abstract
The aim of this study was to evaluate efficacy of two surgical methods used for the treatment of acute arteriovenous fistula (AVF) thrombosis. Twenty two out of twenty five patients that were admitted at the Clinic for vascular surgery in Sarajevo received successful surgical treatment for the salvage of acutely thromboses AVF from 2007-2009. They were included in retrospective, descriptive clinical study. Based on the type of surgical procedures performed, 22 patients were divided into two groups. The first group included 10 patients and they had successful thrombectomy of thromboses AVF while 12 patients in second group underwent de novo creation of AVF using blood vessels already exploited for construction of thromboses AVF. Patency rate of salvaged AVF in analyzed groups was compared one month and 6 months after intervention. In the postoperative follow up there was no statistically significant difference in patency rate of salvaged AVF between analyzed groups after one month, (80% vs 100%, Fisher exact test value =2,520, p= 0,195). Patency rate of salvaged AVF after six months of the follow up was significantly better in group that received de novo construction of AVF when compared to thrombectomy group (25% vs. 91%, Fisher exact test value = 1,062, p=0,002). De novo construction of AVF in case of acutely thrombosed AVF offered better patency rate of salvaged AVF when compared to surgical thrombectomy in the follow up period of six months.
Downloads
Download data is not yet available.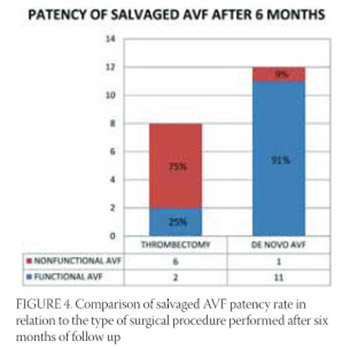 Downloads
How to Cite
1.
Rustempašić N, Solaković E. Outcome Comparison of Two Surgical Methods Used for the Treatment of Acute Thrombosis of Arteriovenous Fistulas: Thrombectomy Versus De Novo Creation of Arteriovenous Fistula. Bosn J of Basic Med Sci [Internet]. 2010Apr.20 [cited 2022Nov.29];10(1):S96-S99. Available from: https://www.bjbms.org/ojs/index.php/bjbms/article/view/2657
Section
Translational and Clinical Research