The Effects of Different Concentrations of Acetylsalicylic Acid on Proliferation and Viability of Lymphocytes in Cell Culture
Keywords:
acetylsalicylic acid (aspirin), lymphocyte cell culture
Abstract
Numerous studies conducted on acetylsalicylic acid (ASA, aspirin) confirmed that ASA inhibits proliferation and induces apoptosis in various types of human cells. Therefore, it was of interest to examine possible effects of different concentrations of ASA on viability and proliferation of lymphocytes in the cell culture. After separation from blood, lymphocytes were suspended in RPMI 1640 medium and cultured at 37°C. Solution of ASA was added to cultures after 24h, in final concentrations of 1, 3 and 5 mmol/l. After 48h, proliferative response was evaluated by WST-1 assay. Significant difference in viability between controls and cell cultures treated with ASA in three different concentrations was observed (p < 0,01). Percents of viable cells in cultures after application of 1, 3 and 5 mmol/l ASA were 9,9%, 2,5% and 16,9% (compared to controls), respectively. To determine whether this cytotoxic effect was result of induction of apoptosis, DNA from cell cultures was isolated and subjected to agarose gel electrophoresis. Fragmentation of DNA was not detected, excluding apoptosis as possible cause of cytotoxic effects. Addition of ASA caused change of initial extracellular pH value for each treated culture. After addition of 1 mmol/l ASA, pH of culture was 7,19, after 3 mmol/L, 6,99 and after addition of 5 mmol/l solution, pH was 6,75. Decreased lymphocyte viability could be attributed to either the effects of the added substance or possible further acidification of cell cultures during three days of incubation.
Downloads
Download data is not yet available.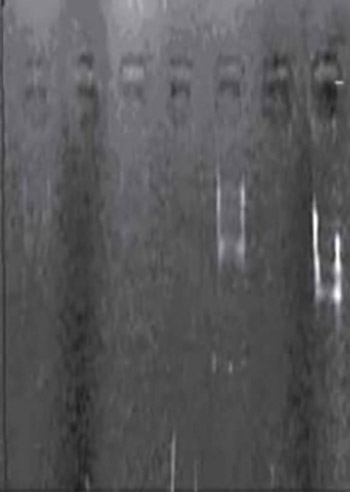 Downloads
How to Cite
1.
Dujić T, Čaušević A, Malenica M. The Effects of Different Concentrations of Acetylsalicylic Acid on Proliferation and Viability of Lymphocytes in Cell Culture. Bosn J of Basic Med Sci [Internet]. 2008Aug.20 [cited 2022Sep.27];8(3):210-3. Available from: https://www.bjbms.org/ojs/index.php/bjbms/article/view/2919