The Synthesis and Antimicrobial Activity of Some 4-Hydroxycoumarin Derivatives
Keywords:
dimers, tetramers, derivatives of 4-hydroxycoumarin, antimicrobial activity, minimal inhibition concentration, MIC, minimal bactericidal concentration, MBC
Abstract
Due to exceptional reactivity of 4-hydroxycoumarin, the synthesis of new coumarin derivatives of dimer and tetramer type has been carried out. The synthesis was carried out from 4-hydroxycoumarin and various aromatic aldehydes. In this way, compounds of the dimer 3,3'-(benzilidene)bis (4-hydroxycoumarin) type, as well as of the tetramer 3,3,'3','3'''-(1,4-dim- ethylenphenyl)tetra (4-hydroxycoumarin) type were prepared.
The newly synthesized derivatives contain different functional groups, and as such they could exhibit microbiological activity. Therefore, we tested the microbiological activity of these derivatives on various species of bacteria and fungi. The tested compounds have shown different activity in terms of growth inhibition of microorganisms. Newly synthesized derivatives exhibit antibacterial activities, manifested as growth inhibition on Grampositive bacteria types (Bacillus, Staphylococcus), while the activity against Candida was much weaker. The same compound did not show any antimicrobial activity against two Gram-negative bacteria types (Escherichia coli, Pseudomonas aeruginosa). The compound 1 showed the best microbiological activity. The obtained results confirmed its good antibacterial and antimycotic activities against different microorganisms.
Downloads
Download data is not yet available.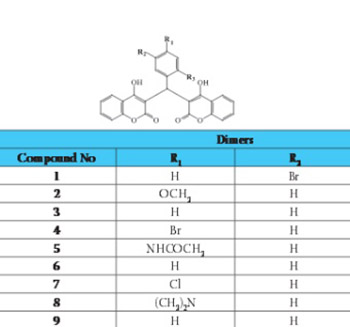 Downloads
How to Cite
1.
Završnik D, Muratović S, Špirtović S, Softić D, Medić-Šarić M. The Synthesis and Antimicrobial Activity of Some 4-Hydroxycoumarin Derivatives. Bosn J of Basic Med Sci [Internet]. 2008Aug.20 [cited 2022Dec.9];8(3):277-81. Available from: https://www.bjbms.org/ojs/index.php/bjbms/article/view/2933