Some Aspects of Balance Disorder in Patients with Multiple Sclerosis
Keywords:
multiple sclerosis, balance disorder, auditory evoked potentials, MRI, EDSS
Abstract
The aim of this study was to analyze: frequency of balance disorder (vertigo and disequilibrium), frequency of abnormalities in auditory evoked potentials (AEP) and magnetic resonance imaging (MRI) changes of the brain in multiple sclerosis (MS) patients with balance disorder, relation of patients disability status to balance disorder and relation of the changes in MRI of the brainstem to AEP abnormalities. It was analyzed 60 patients with relapsing-remitting form of MS. Two groups of patients were made consecutively under Expanded Disability Status Scale score (EDSS): A (EDSS <4,5) and B (EDSS >5,0). The study was retrospective-prospective. After the neurological exam AEP and MRI of the brain have been done. Balance disorder has been verified as initial symptom in 29 (48,4%) and out of them disequilibrium experienced 24 (83,4%) patients. During the relapses balance disorder experienced 48 (80%) patients and in 37 (77,1%) it was disequilibrium. Among them 33 (68,7%) were with lower EDSS (<4,5) and 15 (31,3%) with higher EDSS score (>5). There is no correlation between disability status and vertigo which means that vertigo is not more frequent in more disabled patients and vice-versa. The AEP were pathological in 57 (95%) patients. Of all 29 patients with vertigo AEP were pathological in 28 (96,5%) while in 31 patients without vertigo pathological AEP were in 29 (93,5%) but it is not statistical significant. The most frequent characteristic of AEP changes were prolonged inter-peak latency III-V waves (48 patients or 80%). The plaque in brainstem visualized by MRI was found in 41 (71,8%) of patients (38 or 92,6% of them had pathological AEP and in three patients AEP were normal). In group of patients with pathological AEP, 38 (66,6%) of them had plaque in brainstem. In other three patients with normal AEP it was visualized plaque in brainstem. In the group of 29 patients with balance disorder, 20 (68,9%) had plaque in brainstem as well as 21 (67,7%) out of 31 patients without balance disorder had plaque in the brainstem. This difference is not statistical significant. It is concluded that the vertigo (including disequilibrium) is relatively often (48,4%) initial symptom of MS. Vertigo is not more frequent in patients with higher EDSS score and vice-versa. Pathological AEP are frequent neurophysiologic finding in both (95%) patients with (96,5%) and without (93,5%) vertigo. The most often pathological characteristic of AEP are prolonged interpeak latency of III-V waves (78,5%), as well as abnormalities of V and than IV wave. MS plaques in brainstem visualized by MRI technique are frequent in both groups of patients with and without pathological finding of the AEP.
Downloads
Download data is not yet available.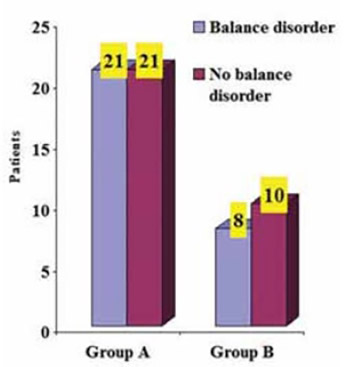 Downloads
How to Cite
1.
Burina A, Sinanović O, Smajlović D, Vidović M, Brkić F. Some Aspects of Balance Disorder in Patients with Multiple Sclerosis. Biomol Biomed [Internet]. 2008Feb.20 [cited 2023Sep.23];8(1):80-5. Available from: https://www.bjbms.org/ojs/index.php/bjbms/article/view/3003
Section
Translational and Clinical Research