Observing the Asymmetry of Amygdaloid Complex in Patients with Complex Partial Attacks
Keywords:
limbic system, amygdaloidal complex, asymmetry, temporal epilepsy
Abstract
Lobus limbicus is an anatomical basis for understanding the temporal epilepsy because it includes not only the focus of temporal lobe infection but of the frontal lobe as well. With it we can explain many of the phenomena accompanying epilepsy (hallucinations, the change of the effects, and so on). The goal of this assignment was to explore the asymmetry of amygdaloidal complex in the patients with complex partial attacks. The results show that the smallest number of patients with epilepsy have a symmetric (same size) amygdaloidal complex on the left side and the right. According to the asymmetry direction the difference in the number of patients with epilepsy is not statistically significant. Coefficient of asymmetry shows that the asymmetry on the left side is more frequent in men, while women have the same distribution on both sides. The greatest differences were found when considering the age factor. So, in all the three groups of evaluated data the differences in average age of patients with epilepsy according to total symm./asymm. were not statistically significant. But, the differences in average age depending on the direction of asymmetry were significant. Patients with longer amygdaloidal complex on the left side are significantly younger, both male and female (related to the axial slice, ant. - post. diameter). Thus, we propose the application of MRI technique in examining the asymmetry of the amygdaloidal complex that we used in this assignment as a template for future examinations in a sense of shedding light on the anatomical functions that underlie neuro-psychiatric dysfunctions.
Downloads
Download data is not yet available.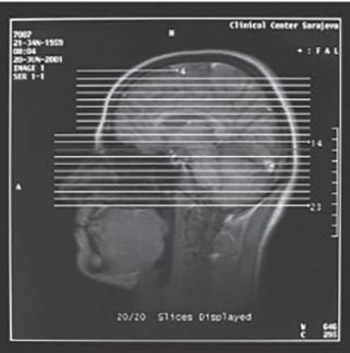 Downloads
How to Cite
1.
Sarač - Hadžihalilović A, Dilberović F, Kučukalić A. Observing the Asymmetry of Amygdaloid Complex in Patients with Complex Partial Attacks. Bosn J of Basic Med Sci [Internet]. 2007Feb.20 [cited 2022Dec.7];7(1):21-8. Available from: https://www.bjbms.org/ojs/index.php/bjbms/article/view/3084