Development and validation of a SEER-based prognostic nomogram for cervical cancer patients below the age of 45 years
Keywords:
Early-onset cervical cancer, prognostic nomogram, overall survival, cancer-specific survival, SEER
Abstract
In this study, we established a nomogram for the prognostic prediction of patients with early-onset cervical cancer (EOCC) for both overall survival (OS) and cancer-specific survival (CSS). The Surveillance, Epidemiology, and End Results (SEER) database was used to identify 10,079 patients diagnosed with EOCC between 2004 and 2015; these cases were then randomly divided into training and validation sets. The independent prognostic factors were identified in a retrospective study of 7,055 patients from the training set. A prognostic nomogram was developed using R software according to the results of multivariable Cox regression analysis. Furthermore, the model was externally validated using the data from the remaining 3,024 patients diagnosed at different times and enrolled in the SEER database. For the training set, the C-indexes for OS and CSS prediction were determined to be 0.831 (95 % confidence interval [CI]: 0.815–0.847) and 0.855 (95 % CI: 0.839–0.871), respectively. Receiver operating characteristic (ROC) analysis has revealed that the nomograms were a superior predictor compared with TNM stage and SEER stage. The areas under the curve (AUC) of the nomogram for OS and CSS prediction in the ROC analysis were 0.855 (95 % CI: 0.847–0.864) and 0.782 (95 % CI: 0.760–0.804), respectively. In addition, calibration curves indicated a perfect agreement between the nomogram-predicted and the actual 1-, 3-, and 5-year OS and CSS rates in the validation cohort. Thus, in this study, we established and validated a prognostic nomogram that provides an accurate prediction for 3-, 5-, and 10-year OS and CSS of EOCC patients. This will be useful for clinicians in guiding counseling and clinical trial design for cervical cancer patients.
Downloads
Download data is not yet available.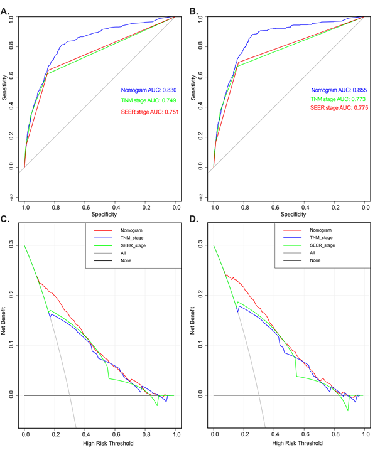 Downloads
Additional Files
How to Cite
1.
Liu Q, Li W, Xie M, Yang M, Xu M, Yang L, Sheng B, Peng Y, Gao L. Development and validation of a SEER-based prognostic nomogram for cervical cancer patients below the age of 45 years. Biomol Biomed [Internet]. 2021Oct.1 [cited 2023Mar.25];21(5):620-31. Available from: https://www.bjbms.org/ojs/index.php/bjbms/article/view/5271
Section
Translational and Clinical Research